Local SEO services, also known as Geo-targeted SEO, are designed to capture search engine users seeking a local solution to their needs. These search queries typically come with a geo-modifier, such as adding a city, region or state to the phrase, like "best restaurants in Atlanta" or "heating and cooling company NYC."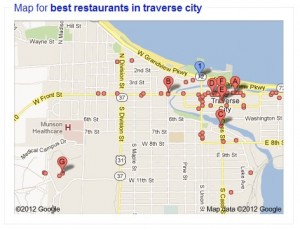 The end goal for local or geo-targeted SEO services is to achieve the greatest exposure possible coming from local, in-market searchers. At the Web Presence Group, we offer a powerful arsenal of local SEO services designed for many facets of local search. Our experts stay abreast the most recent advancements in geo-local SEO and deliver significant results using a variety of resources.
Our Geo Local SEO Services
Whether for expanded franchises or medium to small businesses, our geo local SEO service can be tailored to virtually any type of organization. Some of the components of our geo local search engine optimization services include:
Geo Local Organic SEO: Geo local SEO focuses to increase your search engine exposure coming from specific users that are in your market. We are able to optimize your website for searches that reflect your geographic target markets and the core services you provide. As a result, you can realize local search engine dominance that results in valuable leads.
Google Places Optimization: Are you looking for ways to increase your company's Google Places listing? A higher ranking in Google Places results takes a special approach to local SEO service. Our SEO experts know the most influential factors to Google Places rankings, and are able to apply many strategies to promote your local web presence.
Enhanced Google Local SEO: Have you ever noticed local search results that display listings in greater detail? These are "enhanced local listings," which are different from the more common Google Places results. To realize better rankings in the enhanced local listings, the proper approach to geo-targeted SEO is critical.
Local Content Marketing: We are able tailor content marketing services specifically for geo local SEO campaigns. By doing so, we publish a wide range of content on local portals which target consumers in your region. In addition to better organic rankings, local content marketing contributes to a credible and trustworthy local web presence.
Local Pay Per Click Advertising: Realizing improved search visibility from geo local SEO services can be supported with localized Pay Per Click advertising. We can tailor a budget-friendly Pay Per Click campaign that targets only those searching from your geo-targets. Our PPC specialists can also combine your Pay Per Click ads to your Google Places page for even more prominence in the search engines.
At the Web Presence Group, we specialize in local organic SEO services supported by all of these facets, and more. We help our clients achieve top natural search results based on ethical, "white-hat" practices. We do this through a number of website optimization and geo local SEO services designed to obtain profitable search engine results.
To learn more or inquire about our geo local SEO service, contact us.