Whether at the enterprise level or the local level, commercial interaction via smartphones and mobile devices is ever prevalent. As a result, mobile marketing has spawned into a highly powerful medium to connect businesses with relevant consumers. Whether through text message marketing to sustain customer loyalty, or creating quick response codes (QR codes) to facilitate in-store sales, the applications for mobile marketing suit all types of companies
At the Web Presence Group, we offer professional mobile marketing services in many forms. We unite a number of different resources and channels to bring the most impact to your mobile marketing efforts. This includes the development of mobile-specific websites, mobile-based advertisements and promotions, as well as optimizing your entire mobile web presence.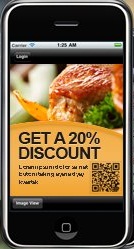 Our Mobile Marketing Services
Whether you are looking to develop a mobile web marketing campaign for your business or are seeking a new, mobile-friendly website, our experts can find an effective solution for your business. Some of our specific expertise in mobile web marketing services include:
Mobile Web Development
Mobile Optimization & SEO
SMS/Text Message Marketing
Mobile Coupons & QR Code Promotions
Our team can customize a mobile web marketing package to best meet your business objectives. We also offer global and locally-based Pay Per Click and SEO services, Google Places optimization, and ongoing content marketing to broaden your web presence. Contact us to learn more.
Mobile Web Development
With everything going mobile, having a website that displays properly on a mobile device is essential. Especially for local companies looking to attract in-market consumers, a mobile-friendly website can be highly advantageous. At the Web Presence Group, we offer mobile web development services to meet you and your market's needs. We can also help promote your new mobile site so smartphone users can find your business with ease.
Mobile Optimization & SEO
The central objective behind mobile optimization, or mobile SEO, is boost your website rankings on mobile-based search engines. Mobile SEO for smartphones is similar to traditional organic SEO; however with limited screen space, mobile optimization must be even more precise. Here at the Web Presence Group, we can help you capture the top search engine placements using proven strategies for mobile search engine optimization.
Mobile Text Message Marketing
The immediacy of mobile text message marketing can be extremely advantageous, especially for local businesses. The benefits and ROI of immediate response advertising for local companies offers one of the best marketing investments. Our experts can help from the initial set-up of creating an opt-in database to the execution of SMS text message blasts.
QR Codes & Mobile Promotions
At the Web Presence Group, we are able to create strategic QR code campaigns for small businesses, restaurants, and other related entities that feed off instant response advertising. With the aid of QR codes and mobile promotions, we can help bring more consumers through your door, both quickly and cost-efficiently.