5 On-Page Website Optimization Tips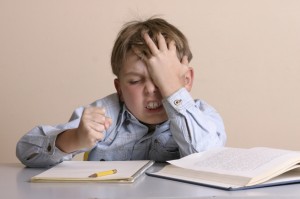 Almost anyone who knows a bit about SEO can write a page title and meta description with keywords in the copy. However on-page optimization these days requires a lot more to reign king of the search rankings.
Sure, off-page SEO, such as link building and content marketing, carries the most weight in actually getting your website ranked. But on-page optimization sets the stage for off-page SEO. That is, the content on your website must correlate to the inbound links pointing to your optimized pages.
On-page website optimization must no go overlooked. To help you master the craft of on-page SEO, we have outline 5 powerful tips to refine your skills and optimize your website to its fullest potential.
Scribe Superiorly Optimized Page Titles
Blending Long-Tail Keyword Variations
Let's say your optimizing a page for 'paint booths' as your primary keyword target. Before you write your page title, consider the secondary keyword targets, or long-tail keywords, that you can blend into the copy.
Based on our research, a few secondary variations in which we'd like to include on this page are 'paint booths for sale,' 'custom paint booths,' and 'automotive paint booths.' Let's try to write a killer page title that includes all of these, respectively:
Paint Booths for Sale | Automotive Paint Booths, Custom Designed by (company name)
Here we have a nice page title that includes all of our keywords. The only phrase that we do not have in exact phrase match form is 'custom paint booths,' however the words are still very close together in proximity. This leads us into our next tip on on-page website optimization: writing copy with keyword proximity in mind.
Write Optimized Copy With Keyword Proximity
Mastering the Art of SEO Copywriting
Writing copy to include keywords and keyphrases is not always a simple task. It is easy to find yourself repeating keywords over and over. Although it is important to include a few instances of exact phrase matching of your keyword targets, you only need to do this a few times.
A good SEO copywriting strategy is consider the proximity of your keywords, or how close together they are in the copy. So as your writing optimized copy, you can still get SEO value by keeping your keywords in close proximity. Here is an example.
Paint booths are a necessity for many different industrial and automotive operations. Often times, used paint booths for sale offer a cost-efficient solution.
Here you can see that although 'automotive paint booths' was not used in exact phrase match, we still have the keywords close in proximity. This strategy is also effective when breaking apart sentences with a period. Such as:
All types of industries use paint booths. From automotive to aerospace, the applications for paint booths are vast
In the example above we get our keywords close together (only 7 character spaces away) by using a period. Keeping keyword proximity in mind while writing copy is an advance strategy that can help make your on-page content both reader friendly and SEO friendly.
Stylize Your On-Page Copy
Mingling Headers, Strong Tags, and Other Content Elements
The art of SEO copywriting extends to more than just infusing keywords in the content. Strong copywriters will also make strategic use of strong tags, underlining, italics, and various headers. These on-page styling elements that can further enhance your optimization efforts while introducing more flow to your content.
The trick is use these elements in your copy with both keywords and users in mind. Strong tagging your keywphrases is always a good idea to let search engine spiders know that a certain set of words a bit more important than others. You can also use italics or underlining to express emphasis. Whether a keyword is involved or not, these copywriting techniques give users a bit more stimulation while reading your content.
Another very important consideration is using a cohesive blend of headers, or H1's, H2's, and H3's. Think of the H1 has the primary header of the page, and always try to include your primary keyword target (e.g. 'paint booths'). H2's and H3's are great opportunities to use secondary keyword variations ('automotive paint booths'). Additionally, H3's can make for great subtitles for you h2's and are also solid spots to reference a keyword. Be creative with how you stylize your copy, and use a nice blend of elements. The search engine spiders really like that.
Go Deeper With Fresh Content
Introducing More, Relevant Content
One the best slogans that can transcribe to on-page SEO is The North Face's "Never Stop Exploring." Whether you have found a new niche to develop more pages or have a great idea for an on-site blog post, never stop exploring new opportunities to develop more content.
Newly published content keeps your site constantly fresh. This is highly appreciated by search engines. And when you can introduce new content that has some relation to your primary keyword target, you enhance the SEO potential to increase your rank.
When brainstorming ideas to go deeper with content, consider expanding upon your keyword targets. Are their new technologies or processes that you can write a blog post about? Can offer an additional sub-service that is worthy of a new page? Keep growing your site, and you will continue to grow your potential to rank highly in the search results.
Cross-Link Like a Champ
Merging Relevant Pages With Internal Linking

Cross-linking, or internal linking, is a highly powerful on-page optimization technique. This often overlook component of SEO is practice of linking together two pages that are related to one another. The trick here is to cross-link pages using keyword optimized anchor text that reflects the page being linked to.
In the example above, a cross-link has been added to a block of content on the homepage about PPC advertising. As a result of this internal linking, a triple-stack has occurred in the search engine results (image below). This is because three pages (each with some relation to PPC advertising) have been strategically linked together.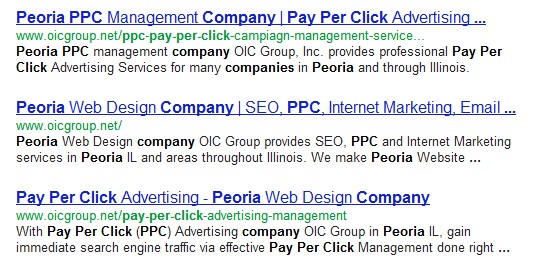 Take into consideration both users and SEO when cross-linking like a champ. If you user sees a link to a page about PPC advertising, you best be taking to him to a page all about Pay Per Click advertising.
Well there you have it folks, 5 fail-proof on-page tips for website optimization. If you have any other ideas or questions, let us know in the comments section below. We'd be happy to hear what you have to say.
This article written by Tyler Tafelsky, one of our SEO & Website Optimization Specialists here at Web Presence Group.
Visit Tyler on Google+