Why You Can't Afford Not To Use Content Marketing
There are several reasons why you should strive to generate quality content for your website. Content creation can significantly contribute to how well you market and promote your online business, brand, product, or service. In addition, content is backbone behind any SEO or inbound marketing strategy. At the Web Presence Group, we call this approach content marketing.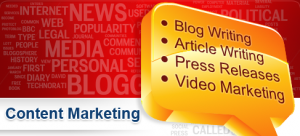 Content marketing is essential for SEO and website optimization. Whether the content of marketing focus is on your website, on your blog, or in an article, the channels to publish exceptional content are as vast as the methods to attract the interests of readers.
Content Marketing for SEO Link Building
One of the most effective ways to utilize content marketing is to build links to your website for SEO. You can achieve this by starting an external blog to market content or by submitting articles on the Web. The essence to this content marketing strategy is to add links into the content to generate link popularity to your website (and thus SEO value.)
The key to remember while building links in your content is keep the links relevant or related to what is being said in the content. Google and other search engines are smart, and they are becoming more aware of the contextual relevancy of links pointing to websites. So if your website is about hair loss, but the links pointing to your website are coming from a blog all about real estate, the links will not have as much SEO value.
Inbound Marketing via Content
Content marketing is also highly advantageous for inbound marketing. Inbound marketing is simply the practice of steering relevant Internet users to your website from other sites on the Web. This is typically achieved by created great content that targeted readers will appreciate and value. Furthermore, the content can highlight a problem, need, or desire, while offering a solution toward the close of the content. This will establish your company or brand as a reputable solution to meet the reader's needs or desires.
In any inbound marketing effort, it is almost required to have some sort of call-to-action. Whether that is a form on the right side of your blog that says "Contact us to learn more," or a link at the bottom of your article that motivates readers to visit your website, the call-to-action in content marketing is critical.
Create Your Content Marketing Strategy
Another benefit of building a content marketing strategy is the fact that it is cost-effective. Starting a blog or submitting articles (depending on the article submission site) can be completely free. In addition, content marketing helps to build credibility and recognition in your brand. The essence of publishing great online content is that you will be increasing the knowledge base of readers who mean the most to your company.
There are several content marketing channels you can apply to your strategy. Below we highlight three of the most effective methods on the Web.
Article Marketing
One of the greatest methods of content marketing is writing and submitting articles to quality submission sites, such as Ezine, GoArticles, or ArticleBase. In most cases, these sites are free of charge. You can write an article for any specific niche or category, provided it meets the requirements of the submission site. Note that some submission sites do not allow writers to include links in the body of the content; however some sites allow links in the resource boxes toward the close. For this reason, sometimes articles are best for brand building and educating your target market, as opposed to building links for SEO.
Blogging
Blogs are an ideal channel for creating highly focused content. If you're starting your own blog, determine whether or not you want to create an internal blog (a blog that's apart of you domain) or an external blog (a separate domain.) Both offer value for content marketing; however an external blog may be more appropriate for link building.
Also keep in mind that your blog should target a specific niche or area of focus. Broad-based blogs rarely attract a loyal readership, so keep the theme of your blog relevant to a specific topic of interest. Another good approach is to test the waters with guest blogging on other websites and blogs. Here you will need to inquire to blog owners if they accept guest blog post, as well as other criteria such as including links. Choose blogs that are relevant to your website, and target blogs that have a high PageRank (or PR) for this will offer greater link juice for SEO.
Online Press Releases
Publishing online press releases is a solid technique for both inbound marketing and SEO link building. You can write press releases about various topics such as new product or service launches, or changes taking place in your company. The key is keep online press releases newsworthy and informative to your target audience.
There are a number of press release submission sites out there, many of which require payment for use. In fact, almost all press release submission sites that allow for links in the content require payment. There are a few that are free, but most free submission sites will not offer SEO value nor expose your content to the masses as prominently. Some of the best press release submission sites for content marketing are i-Newswire, PR Newswire, and Free-Press-Release.com.
At the Web Presence Group, we provide content marketing services and consulting for all types of businesses and websites. If you have any questions or comments, feel free to contact us or submit a response in the comments section below.
This article written by Tyler Tafelsky, one of our SEO & Website Optimization Specialists here at Web Presence Group and writer for the Epic Entrepreneur.
Visit Tyler on Google+