[Strategy Insights:] Google Local and Your Business' Web Presence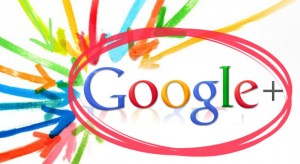 Web Presence Group author and marketing manager, Tyler Tafelsky, wrote a great post about using Google+ to boost your brand's presence on the web and it goes into some great points such as how Google is starting to use social influences within the SERPs (search engine result pages).
However, there is another part of Google+ that is worth getting your business involved in that can help to drive more web and foot traffic to your business.
Google Local
Local listings in the SERPs have been around for years now, but now that Google+ has incorporated Google Local there have been some changes to how the local listings work. In the past, reviews were based on reviews and listings found on directory sites like Yelp, Zagat, or Yellow Pages, and while these are still major influencers, Google Local now plays a heavy hand in the local listings. For example, check out these local listings for the search query "Boise breweries."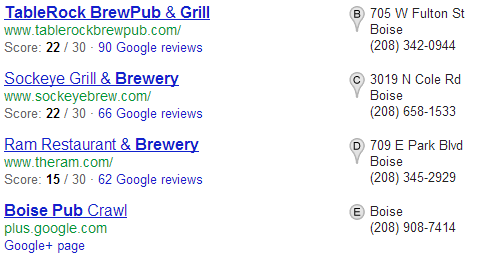 Every single listing is somehow attributed to Google+, either by the Google Local reviews, the score, or a link to a Google+ page. It's obvious that to be a player in local listings, and potentially within normal listings as well, being involved with Google+ will be important to your brand name.
Implementing Google Local
There are a few ways to go about claiming your business in Google Local. If you have a website that you'd like to connect to Google Local then utilize Google Places Dashboard which has recently incorporated Google Local in its backend management. For an overview of how this works, check out this article on Search Engine Land.
Even if you've never made a business page on Google+ for your business, it could still be listed and getting reviews. If so, you'll need to verify that you own it so that you can flush out the details and make posts under your brands name – as well as link it to your website. To do this, follow the steps as listed
here.
How to Be Effective
Simply making or claiming your page and letting it sit there doesn't do much good. Some brands have a devout following and that turns into natural positive reviews online, but you may have to work harder than that. Flush out your profile with as many pictures and details as you can because the majority of the content featured on Google Local pages is user reviews.
That being said, promote your patrons to give positive reviews via Google+ since these have more weight than Yelp or other review sites. Although it's important to note that both bad and good reviews from foreign sites are featured on the Local pages as well – they are simply not as prominent as Google Plus users whose reviews have their picture and name featured.
Added Benefits
From Google Local, users can easily find directions to your business. There is a large Google Map image featured on your page which shows exactly where you are located, which visitors can click on. Plus there are other ways to find their way to Google Maps with links placed throughout the Local page. You can also feature your contact information in your banner along with a link to your home page, and restaurants and other services can even link to their menus.
As with other listing sites, you can also address positive and (more importantly) negative reviews which help to create a stronger community around your brand and shows that your customer service is strong. You can also promote your business with Google Offers by promoting coupons and special rates. This will not show up in the normal SERPs, but users who are searching within Google+ will come across them.
Google is giving businesses more reasons every day to jump on board. As social interactions become a bigger influencer on the SERPs you can expect to see Google+ to become even bigger as brands flock to it in order to tap into another audience and reap the benefits. While showing up in the SERP as a local listing is a great incentive to join, managing your brand on the world's second largest social media site has its obvious merits too.
Thomas McMahon focuses on long term, quality link building. He currently works for Page One Power, who offers
link building training for SEO and other marketing professionals.