The Landscape for Local SEO is Google Places
The scope of search engine optimization (SEO) is constantly changing, especially in the form of local SEO. Strategies that may have been successful one year ago may be obsolete today. Search engine optimizers must be at the forefront of their profession, absorbing any emerging channels, tools, and tactics that will send quality traffic to their clients.
One of the most popular channels that is taking local SEO by storm is Google Places. Offering immense potential for local marketing exposure, the practice of Google Places optimization has become a powerful portal to connect local, in-market consumers with the businesses that can best serve their needs.
Going "Ga Ga" Over Google Places
SEO's are becoming infatuated with Google Places optimization. This is primarily because savvy optimizers know that Google itself sees tremendous search engine value in its local Google Places results.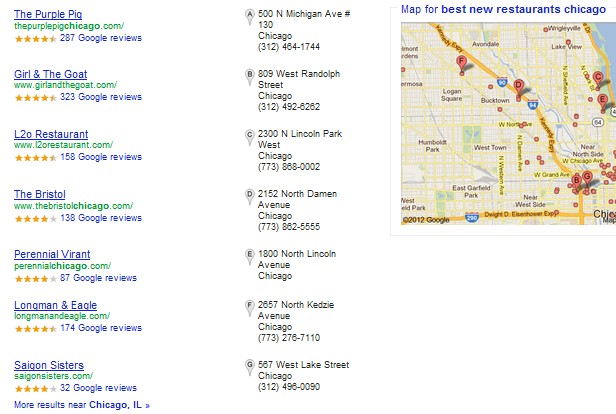 After being scrutinized by unhappy search engine users due to poor quality results, Google is well aware that the local SERPs (Search Engine Results Pages) of Google Places are a sound solution to deliver relevant listings that users will appreciate. In addition, the local focus of Google Places is directly tied to Google Plus, the up-and-coming social network of Google. With that said, success of Google Plus could very well be influenced by the value users see in Google Places.
This local shift is becoming a dominant force, particularly with Google unveiling its socially influenced "Search Plus Your World" – which is also a boost to promote Google Plus. So what exactly does this mean fast-forwarding a few months into the future?
The Up-Rise in Google Places Optimization
Similar to search engine optimization, Google Places optimization is the practice of increasing the ranking of a business's Google Places page. Google Places utilizes many of the same fundamentals as SEO, such as establishing keyword relevancy (via rich, optimized content) and building Place page popularity (via "citations" not links).
Keyword Relevancy
The words you use the title and description of your Google Places page are key for optimization. In addition, the words you use to label your images, videos, Google offers, and other forms of content can also contribute to great keyword relevancy. Be mindful of the keywords that your target market is using to find your business, and apply these keywords respectively in areas throughout your Google Place page.
Place Page Popularity
Unlike traditional local SEO services that hinges on backlinks to generate website popularity (and better rankings), citations are the source to establishing legitimacy in Google Places. Citations are simply the name, address, and phone number of your business on other directory listings, such as Yellow Pages, Yelp, Kudzu, and CitySearch, to name a few.
Google simply compares your the business information you have cited on your Google Places page with the information listed on other directories around the Web. The more citations you have on other websites that match the exact citation on your Google Place page, the higher rankings potential your Place page will have.
The Advantages of Google Places Optimization
Simply put, Google Places is free local advertising for businesses
Claiming a Google Places page can contribute to greater search engine credibility and SEO value of business website
Local search engine users can efficiently find the companies that will best meet their needs with Google Places
Google Places is a dominant player in the mobile search results, which is big for businesses that feed off instant response marketing
There is no question that Google Places optimization is the form of geo-local SEO. SEO's on the successful path are those who are embracing these local listings with open arms.
If you would like more information about our about Google Places optimization services, contact the Web Presence Group. We'd be happy to enlighten you and help your local business succeed.
This article written by Tyler Tafelsky, a Traverse City, MI native and remote SEO & Website Optimization expert here at the Web Presence Group.
Visit Tyler on Google+