How to Structure Your Pages for Optimal Keyword Relevancy
After keyword research and selection, the next primary phases of optimizing a website is planning and organizing optimized pages.
Designing the architecture of your website, particularly its optimized pages, is a great task. Establishing optimal keyword relevancy hinges on not only the nature of the site's content, but how well the optimized pages are organized.
In this post, we are going to share with you two key components to consider when developing multiple new optimized pages for a site. These tips you can also employ during the creation of a new website.
Construct a Cohesively Optimized Book
A website is in many ways similar to a book. The book can be structured with numerous levels of topics and pages, each offering different degrees of content (or keyword) depth.
When a keyword optimized page is supported by (or linked to by) other relevant webpages, that optimized page will often hold stronger keyword relevancy.
So if you're looking for ways to further enhance the SEO potential of webpage, consider building out related pages that can help bolster it.
Let us provide an example:
WebMD.com is a very well optimized website full of deep pages and valuable content. Notice in the image below how the page for "Mental Health" on the site is supported by several specific pages about mental health issues.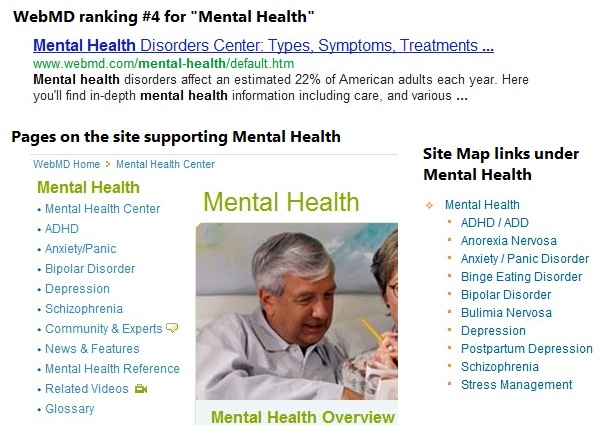 One of the reasons why the page on Mental Health ranks so well is because this page has several supportive pages that go deeper on a more specific topics.
In short, all of these pages surrounding the topic of 'mental health' will help to bolster the keyword relevancy of the entire site for 'mental health' and related keyword variations.
Let us offer another example from our website:
While optimizing the WebPresenceGroup.net, we wanted to establish keyword relevancy around the keyphrase "PPC optimization"
Notice in the top navigation of the website, the pages that expand out under PPC Optimization Services (under Pay Per Click Advertising) are all specific services of PPC optimization, namely landing page optimization and PPC campaign optimization.
The main focus here is to support the keyword relevancy of a page by creating and optimizing new pages for other related keywords.
In essence, the structure, or blueprints, of your primary optimized pages is an essential part of website optimization. Some SEO providers will simply roll out several new optimized pages without taking into consideration the internal organization or depth of pages. This is one area that distinguishes the strong website optimization companies from the weak.
Build Internal Links Like a Master
Structuring your webpages is just part of the process of establishing optimal keyword relevancy for your website. It is also important to internally link supportive pages back to your primary optimized pages.
In the content of the supportive pages (e.g. landing page optimization and PPC campaign optimization) we will add links that point back to the primary page (e.g. PPC optimization). The trick here is to use the keyword target as the anchor text. Observe in the image below how we use optimized anchor text in the internal links we have build on the 'PPC campaign optimization' page.

Organizing the optimized pages of your website is like putting together the pages of a book. In some instances you will find that building our more keyword-specific pages to help bolster another primary page is the best approach to website optimization.
So whether you're adding a chapter of optimized pages to your book or developing a completely new, optimized website, the structure and internal linking of your pages must not go overlooked.
This article written by Tyler Tafelsky, one of our SEO & Website Optimization Specialists here at Web Presence Group.
Visit Tyler on Google+