Ecommerce Internet Marketing: PPC or SEO?
The Internet marketing arena for ecommerce websites is becoming even more vast. Almost any product niche that's applicable to online selling is emerging with new, powerful players. Just take a look at the search engine results for certain product-related searches.
Below is just one example of the intense competitive nature that ecommerce Internet marketing has in store.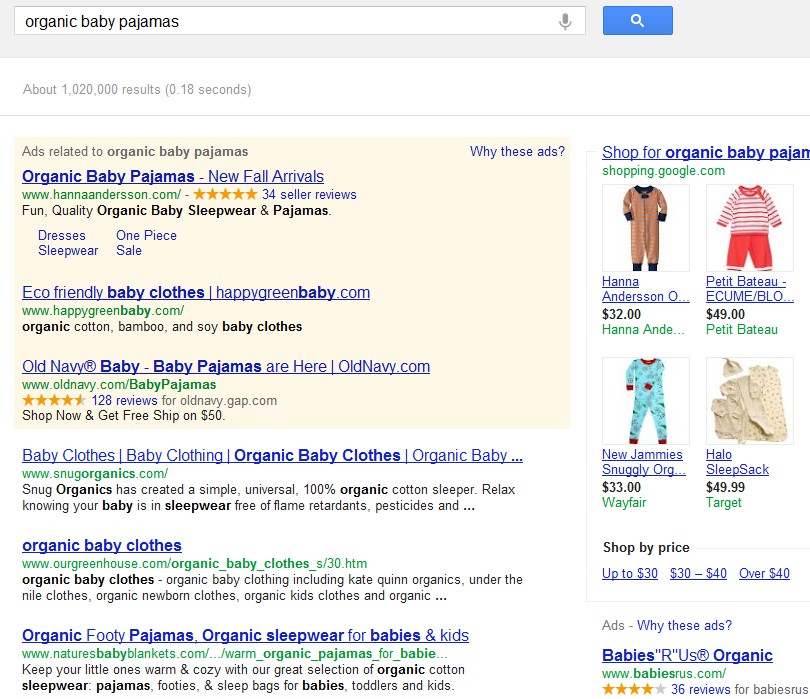 So to the organic clothing retailer that is contemplating marketing their baby clothing on the web, where do you begin? The search results for almost any product-focused keyword is flooded with strong, big budget companies that are dominating both the paid and organic listings.
The organic clothing retailer could bid its way to attaining top search engine exposure via PPC advertising. Yet at over $1 per click for exact phrase match [organic baby pajamas], the expense in paid search advertising could accumulate quickly.
The other primary option is to pursue search engine optimization and attempt to earn a top ranking on the keyword phrase. In addition to taking a lot of time and effort, the plausibility of attaining a top placement is hard to gauge (again, because the competition is so fierce.)
So what's a retailer to do when exploiting the opportunities of ecommerce Internet marketing? Go for SEO or PPC?
The Search is in the Long-Tail
Search engine users are becoming very specific in the keyword phrases they use. The trend for shoppers is to search a long-tail keyword phrase that reflects the specific product in which they're seeking. In a nutshell, this will include three or more words that specify a product, such as "new balance minimus for men" or "mens new balance minimus size 10."

Understanding the trends of long-tail search is momentous for both ecommerce SEO and PPC, especially when competition is tough and marketing budgets are limited. Google's Instant feature is great tool to better hone in on these trends with respect your ecommerce site's keyword targets.
From the suggestions given by Google Instant, we can pinpoint "mens new balance m 580 classic running shoe" as a popular long-tail keyword worth targeting. For ecommerce PPC, we can create a highly targeted ad specifically for this model of shoe. As a result, our ad can standout from the rest of the competition. For instance, a possible headline for our ad "Mens 580's by New Balance" may be more focal to searchers then the competitor's "New Balance Classics."
For retailers with limited online advertising budgets, easing into the ecommerce PPC playing field with long-tail keyword targeting is a sound approach. To start conservative, try bidding on keywords using only [exact phrase match]. Another good option is to use modified broad match to capture any relevant searches that include specified terms. Bidding on a keyword phrase using modified broad match would look something like +mens+new +balance +minimus. By using this bidding strategy, the ad will only be triggered when all four of those words are used in a search query.
Using PPC as a Test for SEO
Because search engine optimization is a long-term endeavor, it is important that the chosen SEO keyword targets produce sales. If we work our way to earning a top keyword ranking, but the traffic does not result in conversions, then our SEO efforts are wasted.
One of the most powerful strategies for ecommerce Internet marketing is to use PPC to test the sales potential of keywords before pursuing them via SEO. For large online stores with thousands of products, this can be one of the best search engine optimization strategies for ecommerce.
More times often than not, if the a keyword results in sales via Pay Per Click advertising, then it will most likely convert traffic from organic SEO. The idea here is to pinpoint the keywords that drive the most sales via PPC and determine which of those keywords are worthy of SEO. If a keyword is new, test it for a period of time or until you have enough statistical relevancy to determine its sales (and SEO) potential.
Selecting the right keywords for SEO should also take into consideration the competitive nature of each keyword and whether or not a top ranking is actually achievable. In some cases, the organic listings is far too competitive for ecommerce SEO, regardless of how well a keyword converts from PPC.
Localize Your Campaigns
The benefit for retailers with local market focus is that they can set-up ecommerce PPC campaigns to target specific geographic areas. Furthermore, this enables marketers to write highly targeted ads with locally-focused copy, such as "Made in Michigan" or "Your Local Source for…" This ad copy is sure to standout from the generic phrasing that clutters up the SERPs.
In many cases, shoppers are searching for products locally. Their searches might include a geo-modifier, such as "organic clothing store in Traverse City." So if you operate an ecommerce site that also has a tangible retail store, then you definitely want of geo-optimized your website for local SEO.
This tactic is relatively simple. In short, you'll want to ensure the city or region in which your store is located is mentioned throughout the website. An easy place to do this is the footer. Here you can simply include your store's address, which will automatically mention your city and state. Additionally, including your geographic target in the ULRs, Page Titles and Meta Descriptions of your optimized pages will further your geographic relevancy for local searches.
Localizing your ecommerce Internet marketing campaigns might seem a bit odd if you're selling products on a national scale. However if you own a retail store that welcomes foot traffic, local optimization of your website is a must.
Socialize Your Marketing Efforts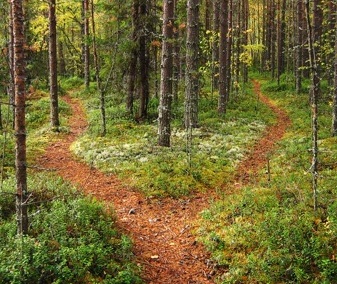 Social media is a key ingredient to any Internet marketing campaign. For ecommerce search engine optimization and PPC advertising, social media marketing is the icing on the cake. It is cost-effective, highly interactive, and potential viral for your ecommerce brand.
Approach social media from the viewpoint of you target market. What types of social media platforms are they using? In almost every case, Facebook and Google+ are the primary starting grounds due to their immense popularity. But what's more than just starting a social media account is how you build your following as well as how you interact with your followers.
Social media marketing is unique. It complements your ecommerce SEO and PPC efforts. In essence, you are building your brand whilst funneling traffic to your website. Sure, some social media platforms may contribute to SEO (such as Google+ and Twitter) but for the most part, you should approaching social media with an inbound marketing strategy. That is, in what ways can can you lure potential customers to your site?
The Takeaway
The most effective ecommerce Internet marketing campaigns include a blend of search engine optimization, Pay Per Click advertising, and social media marketing. We can't discount email marketing either, but that's a tactic for a nother blog post. Immerse yourself in your target market's interests and carefully construct your ecommerce marketing campaign in such a way that connects with them best. Take your time as you ease into PPC or SEO, or both. Internet marketing is consistent endeavor for ecommerce stores, so be sure you know your strategies are working before investing too much time and money.
This article written by Tyler Tafelsky, one of our SEO & Website Optimization Specialists here at Web Presence Group.
Visit Tyler on Google+