The Foundation to Building a High Traffic Blog
Many individuals and businesses create blogs for many different reasons. However, the underlying objective for virtually all blogs is to generate traffic.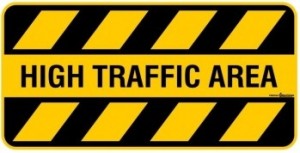 Building a high-traffic blog is not easy. It demands extensive research, mindful preparation, and diligent upkeep.
In essence, a blog that earns the respect of its audience must offer a high level of value and purpose.
Highlighted below is the foundation to building a high-traffic blog that will inbound the visitors and provide the outcomes you desire.
Define Your Blog's Focus With Precision & Creativity
The essential first phases of building a successful blog is takig the time to define the focus, purpose and intentions of your blog. In doing so, you must be very specific and precise as to the topical theme in which your content will surround.
Parallel to defining your blog's focus, you must also define the characteristics and interests that represent your target audience. Ask yourself: what topics will my target visitors find most interesting? What's truly going to motivate my audience to keep coming back for more?
Also take into consideration your competition, or other related blogs. What makes their blog unique, and how can you position your blog's brand accordingly?
Utilize Rich Media to Diversify the Content of Your Blog
When most people think of blog content, they think of text-based articles, perhaps sprinkled with a few images.
But when you think about the best blogs on the Web, you realize these blogs are populated with various forms of rich media, such as videos and graphics. In short, these engaging forms of content are more compelling and standout-ish. As a result, the visitors of you blog are more inclined to engage with your blog, share its content, and follow your brand on social media.
Brainstorms ways in which you can utilize rich media to diversify your blog's content. Even if you're unable to create your own videos and graphics, you can still share relevant videos from other credible sources (but of course, cite the creator and be ethical in doing so.)
Create a Loyal Following Using Social Media
Blogging is the voice of your brand's web presence. And to magnify that voice to its fullest potential, integrating social media is essential.
The three must-have social media networks to include in your traffic-generation arsenal are Google+, Facebook, and Twitter. These social media platforms offer the highest volume of users, in addition to offering the capabilities to promote your content to new audiences.
When you build a loyal following on social media, more people are exposed to your posts. Not only does this generate more traffic, but it creates a ripple effect as individuals share your awesome content with their friends, followers, and circles.
Additionally, as people share, tweet, like, and +1 your content on social media (attributes known as "social signals"), the greater potential your content will have. That is, more "social signals" means more value and credibility for SEO. And when you optimize your blog posts with some degree of keyword-relevancy, your blog's search marketing potential skyrockets.
In conclusion, it's important that you create a blog with righteous intentions and about a very specific theme. As a result, you'll find greater ease and effectiveness in driving quality traffic, building a strong social media following, and igniting your brand's SEO potential.