Using Open Site Explorer for Off-Site SEO Link Analysis
Open Site Explorer is a must-have tool for any individual involved in search engine optimization (SEO). Developed by ever-powerful SEOmoz, Open Site Explorer reveals a wealth of information about the link data surrounding your website (or a competitor's site.) The link data provided by this tool can help you analyze your off-site SEO efforts.

If you're not a SEOmoz Pro member, you will have limited access to the information given; however the data is still insightful at gauging the quality and status of your site's link portfolio.
To start, visit opensiteexplorer.org and submit the domain URL that you're interested in analyzing. The information is then grouped under five sections, or tabs, which are further discussed below.
Inbound Links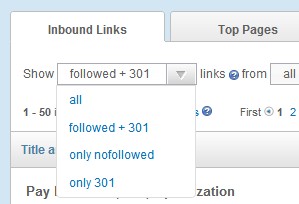 Under the Inbound Links section, you are able see the sources in which your links are coming from. Try filtering the results to better analyze the information that best suits your SEO interests.
Pro members can analyze up to 10,000 links, which is very powerful for large websites, such as ecommerce stores.
Top Pages
The Top Pages section displays the most significant pages of your website. Pages are ranked according to authority (based on authority of the links pointing to your pages,) however you can learn a lot more about each page by evaluating the follow metrics that this section highlights:
Root domains
Inbound links
HTTP status
Facebook Likes & Shares
Tweets
Google +1's
Unfortunately if you're not a pro member, you will not be able to view the social media data concerning Facebook, Twitter, or Google+. You can however get a good gauge at which pages are deemed the most valuable on your website.
Linking Domains

This section offers more detailed information regarding the websites that are linking to your site. Here can view a nice listing of the domains that providing the backlinks, as well as insightful data supporting each domain. The graph on the top part of this section shows as TLD (Top Level Domain) distribution chart. This provides a visual representation of the types of domains (.com's, .org's, etc.) that are linking to your website.
Anchor Text
The Anchor Text portion of Open Site Explore reveals the specific anchor text (or link text) that is being used for your site's inbound links. This data is extremely useful with respect to Google's Penguin update, which specifically targets over-optimized anchor text. If you notice that you have incredibly high amount of optimized backlinks (using exact phrase match anchor text,) this may be a sign to start diversifying your backlink portfolio.
Compare Link Metrics
The Compare Links Metrics section enables you to compare the link data of your site with up to five different domains. When it comes to performing a SEO competitive analysis, this feature is highly beneficial. Further down on this page, you can view specific metrics on the domain, sub-domain, and root domain levels. There's also great insights regarding internal and external link weight, as well as do-follow and no-follow backlinks.
Advanced Reports
The last section of the Open Site Explorer, Advanced Reports, allows for the custom creation of reports based on the link data provided. Advanced reports offers tons of reporting features, as well as the capacity to report up to 100,000 links. These reports can be easily generated into a .csv file for more universal sharing. This feature is only available for SEOmoz Pro members.
Open Site Explorer is an awesome tool for SEO and website optimizers. You can gain insights about your off-site SEO efforts, as well as that of your competitors. And because Open Site Explorer is tool provided by SEOmoz, you can trust that the results are accurate.
This blog post was written by Tyler Tafelsky, SEO and Internet marketing specialist here at Web Presence Group. You can connect with Tyler on Google+.