Simple 10-Step Guide to Local SEO & Website Optimization
Local SEO can be an extremely effective marketing tool for all types of small-to-medium sized businesses. And although many perceive SEO as this ominous science formula that only Google specialist know, that truth is local SEO is fairly straightforward.
In short, you can do local SEO on your own with the proper guidance. Perhaps you'll benefit from some coaching or an SEO consulting program, but for the most part, with the proper resources (and webmaster/site access) you can achieve a lot on your own.
In this post, we define a simple process for local SEO and how you can do most of the work yourself.
1. Define Your Target Audience
A solid local SEO strategy starts with defining and understanding the nature of your target audience. Although you may already have a clear picture of who your audience is, it helps to meditate on their core motives and buying behaviors.
For instance, do you offer a product in which your market will mostly like seek and buy immediately? Or do you offer a service that takes educating your audience, and thus a longer conversion cycle? Incubating on your target audience will not only shape your keyword research and selection, but the types of content you will later produce.
2. Select Your Primary Keyword Target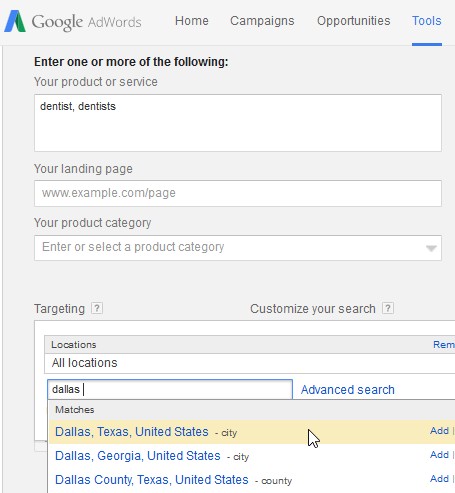 If you don't already know your primary keyword target, try submitting some of your ideas in Google's Keyword Planner Tool. You can also use other keyword research tools like those offered by SEOBook.com and SEMRush.com.
Keep in mind that for local SEO, the monthly search volume shown for a given keyword will be different (because most tools show global or national search volume per keyword.) What's nice about the Google Keyword Planner is that you can adjust the settings (in the left side toolbar) to show results in a specific area. So, if you're targeting "computer repair," you can see how many people search "computer repair" in your area. This is valuable because not all Google searchers will include a geo-modifier in their keyword queries (e.g. "computer repair Dallas TX").
Lastly, choose only one primary keyword target (and maybe one or two closely related keywords) and play to your company's core. Focal is better in SEO, otherwise you can spread your efforts out too thin. For instance, if you like both "marketing consultant" and "marketing consulting firm" – stick to what your business truly represents. Even though "marketing consultant" might be searched more often, the latter option might have more overall conversion value.
3. Make Page Titles Keyword Relevant & Unique
The page title of your homepage is one of the most important elements of optimizing your website. Here you'll want to include your primary keyword target in a creative manner. Why creative? Because the page title is what appears in the Google search results as the main headline (link) of your site's listing.

You'll also need to be creative in optimizing your page title, because you'll want to keep it under 70 characters (as a SEO best practice.) A good template I use is to start with the business name, then follow with the primary keyword and city name. An example is:
[Company Name] | Marketing Consulting Firm in Dallas, TX
In addition making your page title keyword relevant, you'll also want to ensure that each page of your website has a unique page title. In short, duplicate page titles can suck for SEO, so make them each unique.
You may opt to keyword optimize certain pages of your website for certain keyword variations. For instance, a "services" page could have the page title:
[Company Name] | Marketing Consulting Services in Dallas, TX
Similar, yet unique. You get the picture.
4. Include Your Business Name, Address, & Phone Number on Every Page
Somewhere in the header or footer (or both) on your website, you'll want to include the name, address, and phone number (NAP) of your business. This is incredibly important for local SEO and often times gets overlooked (or put in a graphic that cannot be crawled.) Make sure your "NAP" is in text-based form (not in a graphic) and is completely accurate. Google crawls your "NAP" and compares it with other cited "NAP's" of your business found throughout the web (like directory listings.)

If your business as more than one location, include the primary headquarters of your business in the header and/or footer, and create a "Locations" page in the primary navigation of your site. The "Locations" page can then link to dedicated pages specific to each location of your business. This might seem like overkill, but dedicated pages is key for SEO (especially if you want to rank for each location.)
5. Build a Sitemap & Internal Links
Aside from the homepage, the sitemap is one of the most important pages for SEO (and is often overlooked.) The sitemap is a simple page that serves as an index and includes links to all of the pages of your website. Although it's not used very often by visitors, the sitemap is the roadmap for search engine spiders. The sitemap page should also be linked on all pages of your website (such as a header or footer.)
The perfect example that the sitemap sets is a hub for internal linking. That is, links within your site that link one page to another. This process takes a bit of creativity but can also help with SEO. When you link two relevant pages (and use keyword-friendly anchor text for the link), you could create a double-stack in the search results.

Pretty cool, eh? Sprinkle internal links throughout your site, but do this in a strategic and mindful manner that respects the usability of your site.
6. Create a Blog & Publish Content Regularly
Blogging is more than just a trend. By regularly publishing blog posts, you can improve your SEO efforts in many ways.
Google values websites that are consistently updated with new and fresh content. A blog is great way to achieve this.
Like pages on your website, blog posts can be keyword optimized and can rank in the search results.
Blog posts can link to pages on your site, which can enhance the SEO value of those pages.
You can share you blog posts on social media sites, which can naturally inbound traffic to your site (and help increase your social media followers.)
Blogging is fuel for content marketing and social media marketing, which are two emerging practices that greatly help supplement any SEO strategy (particularly local.)
7. Create, Optimize, & Upload Videos
A local SEO strategy that rises above the competition will always include at least one video. Videos can be used in the same manner as blogging – to aid inbound marketing and SEO. You don't need filming equipment or a big budget to shoot a video. There are a number of simple video creators on the web that make quality videos from images you can provide.

Create a short and simple video that explains your business, as well as its primary products or services. Before you upload the video to your website or YouTube channel, you can optimize the video properties using this process. Next, upload the video to a blog post, pages of your website, and various video sharing sites like YouTube and Vimeo. In addition to SEO and content marketing, videos can also help convert visitors who land on your website, as videos offer an engaging means to interact with your target audience.
8. Fix Technical Website Issues
Unbeknownst to most website owners, there are often technical issues that are preventing a website from realizing its full SEO potential. The first step is ensure you have a Google Webmaster Tools account set-up. This platform makes it easy to troubleshoot HTML errors and warnings, as well as any pages that have duplicate content.
You can also use tools like the W3C Validator which scans your website for HTML issues. This tool will provide a comprehensive report of the technical issues on your site that need to be fixed. Much of this effort takes some degree of HTML knowledge and back-end access to your website, so keep this in mind moving forward.
9. Get Listed on Major Directories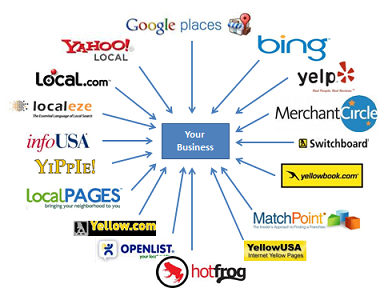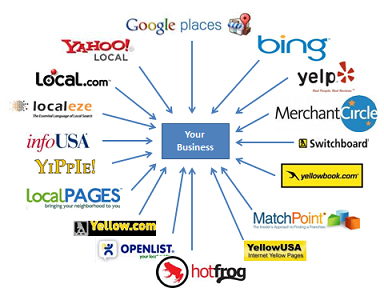 Directories are vital source of SEO juice in a local context. Google's Local Search listings (the special listings with a Google Map and red push-pins) are based on unique factors; one of which being the volume and accuracy of citations (or mentions of your business' "NAP") on other websites and primary web directories.
In short, Google crawls the citations on web directories (like Yelp, Yahoo! Local, Yellowpages, even Facebook) and compares each citation with that on your company's Google+ Local page and website. If all citations are consistent and accurate, your business may be rewarded with higher rankings in Google Local Search. Of course there are many other factors (like domain authority, Google+ reviews, etc.) but directory citations have a momentous impact.
There are some cool tools out there, like Yext, that enable business owners/marketers to systematically and efficiently establish (or fix incorrect) listings on over 50 of the most recognized directories. It's a great investment for your local SEO efforts if you have the funds to support it.
10. Build & Earn Links Back to Your Website
All of the latter components to your company's SEO strategy will work best if you are continuously generating links to the website. Increasing the authority, credibility, and overall search engine rankings of your website stems from the number and quality of links pointing to your domain. As a result, building and earning links back to your website is an ongoing process that continues to fuel any SEO strategy.
In addition to directories, other good sources and techniques to get quality links include:
Chamber of commerce websites often include a listing or profile of each member business (which also include a link to the website.)
Local news websites can offer unique link opportunities, such as contributing articles or content of interest
Guest blogging for other related sites (particularly locally relevant sites) can offer a good source for links
Finding quality link building opportunities takes time, effort, and outreach. Although it requires work, it's a strategy that will most definitely help shift your search engine ranking near the top.
Go Above & Beyond
The latter 10-steps are the core of successful local SEO strategy. If you're able to execute each step and continuously generate links to your site, there's no doubt your business will be a strong contender in your local marketplace.
If you wish take your company's local SEO campaign to the next level, there are a several advanced SEO strategies that go above and beyond. Some of these strategies include uploading a KML file for Google Maps and integrating structured microdata markup (Schema) for website optimization. If you wish to learn more or receive help, feel free to contact us. We offer free, no obligation SEO audits which can help steer your efforts in the right direction.


About the Author
Tyler Tafelsky is the lead SEO analyst here at the Web Presence Group. Tyler is highly engaged in many different facets of Traverse City SEO marketing, social media, and Internet marketing. You can connect with Tyler on Google+ or follow him on Twitter.