9 New Features of the Google Keyword Planner Tool
All professional search marketers are aware that conducting proper keyword research is a vital process for the success of any organic SEO or PPC advertising campaign. The Google Keyword Planner Tool is a great resource that generates keyword data and that's necessary to formulate calculated search marketing strategies. And recently, Google has unveiled several new features (9 to be specific,) making the keyword research process even more refined.
Below we summarize these 9 new features of the Google Keyword Planner Tool. Once you get the gest, take some time to explore these new features. All images in this blog post are borrowed from the blog of Kim Clinkunbroomer (Thank you!)
1. Leverage segmentation of geographics for the given target location. For instance, if you are targeting a geographic region in the U.S., you can view your targeted locations with metric for the geographic targeting that has been specified (shown at the bottom in blue;) or you can view the automatic segmentation for further granularity of your targeted location (shown in red.)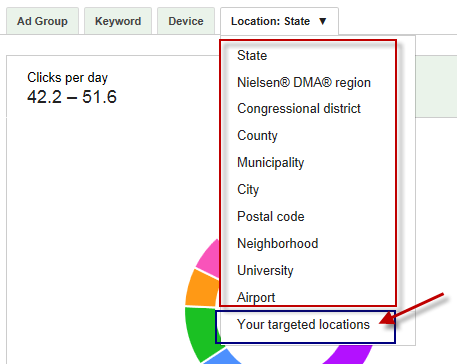 2. Compare absolute and relative differences based on each ad group and keyword's search volume over two periods.

3. See mobile trends (shown in green) in comparison to the entire search volume across all devices (shown in blue.) Place your cursor over each bar to see the volume estimates.

4. Custom-tailored time periods. You can adjust results to get daily, monthly, quarterly, or annual estimates. You can even specify the time period of which the metrics are based.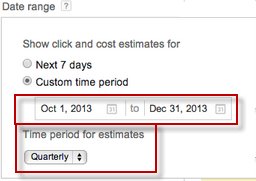 5. View segmented data by device and targeted locations. This new feature shows estimates with a nice visual graph enabling users to understand the estimated search volumes per device.

6. New device-specific data segmentation: view a breakdown of search volume data by device and see estimates to make mobile-specific bid adjustments, etc.

7. New graphical visualizations that segments geographics and specific locations of interest with keyword search volumes.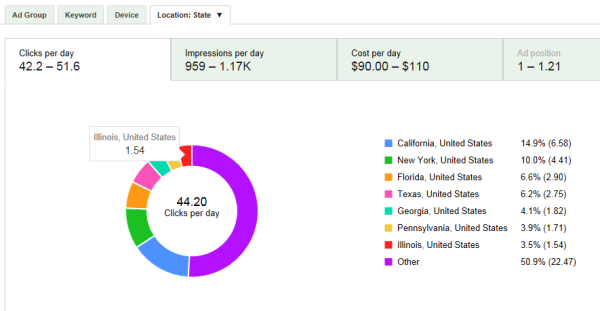 8. Suggested keywords and search volume data is provided around the specified time period. This information is displayed in a graph that shows visual changes over time.

9. Users can now compare specific time periods, which are also shown in a nice visual.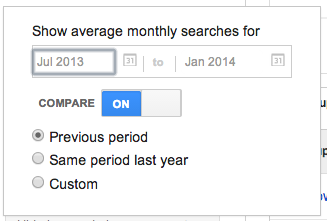 Google continues to evolves its products to better suit the needs of savvy search marketing specialists. If you conduct any PPC campaign management, whether for local or ecommerce, we highly suggest scoping out these great new features.