10 Techniques to Build Quality Backlinks for SEO
Link building has become one of the most effective practices for better SEO performance. In essence, backlinks (links from external sources pointing back to your webpages) are like votes of popularity and credibility in the search engines. The higher quality of links, and the more of them, the greater rankings potential your webpages have.
Understanding Backlinks 101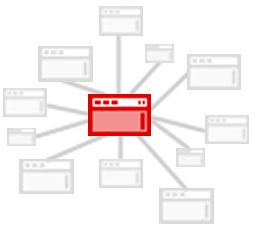 Backlink quality stems from the source in which the links are coming from. A key point here is ensuring your backlinks have contextual relevancy. That is, the surrounding content of the backlink has some relation to the link's anchor text and destination.
For example, a backlink to a juice fasting blog would have great value if the link was immersed in an article all about the benefits of juice fasting. That would be credible backlink with good contextual relevancy.
The other variable that determines the quality of a backlink is the authority of the link's source. Google puts a measure of authority on all websites, ranging from 0-10. It is called PageRank or "PR" for short. So a website with a PR7 (high authority) offers greater link value or "link juice" then a PR1 (low authority).
Building quality backlinks for SEO is the combination of utilizing high authority link sources that offer some degree of contextual relevancy. This is the foundation to the best practices of SEO link building.
10 Ways to Start Building Links
To begin on your path to righteous link building for search engine optimization, we have listed ten techniques to build or earn quality backlinks to your webpages.
Blogging: Create and maintain a blog that is a separate domain from your money site (the website receiving the links). Build the blog around a niche topic that relates to your money site and frequently publish content with backlinks infused into the blog post's copy.
Guest blogging: Guest blogging is one of the most effective ways to build backlinks on higher authority blogs. This takes some effort, for you must find good blogs, contact the blogs' owners, and inquire about writing a blog post for their blog. Be sure to ask about the terms regarding the process, specifically with respect to the links you are allowed to include.
RSS Feed: Have a RSS feed on your blog. Doing this is free and easy to set up. A RSS feed is advantageous in that it allows people to syndicate your content, and thus generates greater popularity of your blog. This can then result in others providing attribution links back to your pages.
Press Releases: Write and distribute press releases regularly. The key here is publish your press releases through distribution sites that allow you add backlinks in the copy, as well as sites that offer great coverage and authority.
Create Case Studies: Writing a case study about a client who has succeeded through your services will not only display credibility in your company, but also generate interest from the client. Quality clients will often link back to your website out of respect for your solid PR stunt.
Link to Other Relevant Blogs: Often times linking to other related blogs can generate link reciprocity. Some blog owners may likely to return the favor. In some cases, you may want to make it known that you are linking to their blog (not all blog owners check the backlinks of their blogs.)
Create Visual Content: Consider diversifying from text to visual content, such as images, infographics, charts, and cartoons. Not only will these techniques attract readers, but also earn and retain backlinks.
Social Sharing Widgets: Social sharing widgets on your webpages and blog posts, like Twitter's "tweet this" or Facebook's "like this," can go a long way in propagating your content and generating link popularity.
Write Reviews: When you give a positive review of a company or form of content (like a book), chances are that the author or website owner will link back to your website.
Offer Free Tools: If you have skills in a particular service or niche, create and offer free tools and resources. This is one of the best ways to attract new business and quality backlinks.
Sometimes the best links can be built without the expertise of a SEO or website optimization company. We hope these ten link building techniques will get you on your way to generating quality link popularity and start rising your rankings in the search engines.
This article written by Tyler Tafelsky, one of our SEO & Website Optimization Specialists here at Web Presence Group.
Visit Tyler on Google+