Why Your Marketing Plan Should Emphasize Web Presence Management
The marketing playing field for most businesses has become primarily digital. Even for locally-focused small businesses, there's a wealth of marketing opportunities in having a cohesive web presence in search (Google,) social media, and other avenues that center on digital brand building.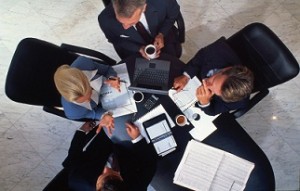 A business' web presence is its overall online image. Social reputation, search engine visibility, tone and value of communications, and many other variables define an authoritative web presence. All of these elements demand creative planning and consistent management.
In this article, I will share with you three ways in which you can leverage the practice of web presence management to enhance your company's overall marketing efforts.
1. Define The Purpose of Your Web Presence
All marketing plans have a distinct purpose. This helps shape the overall road-map and direction, as well as define the marketing investments and internal responsibilities involved.
Defining your company's web presence should first center on the "what", and then the "who."
What are the web marketing initiatives that will add value and bring business to the company (e.g. SEO, Pay Per Click (PPC) advertising, social media marketing, content marketing?)
Who are the people that will manage the latter channels?
For example, in many cases social media management is best handled in-house by a team that's familiar with the business and voice of the brand. However, specialty services like SEO and PPC might be better left to a website optimization company.
2. Improve Your Social Media Presence
To best optimize and promote your company's web presence, you absolutely cannot neglect social media. There are a wealth of opportunities in building a solid social media presence:
Promote customer loyalty
Set the tone of your brand's voice and image
Gain customer/market feedback for research
Directly advertise and sell your products and services
Create a community that circulates around your brand
Improve your social media presence by being very focal with the platforms you choose. Some marketers think that their business needs to be on every social media site imaginable. This is can overwhelm your team while diminishing the quality and focus of your efforts.
Pinpoint the social media sites that are most aligned with your brand (as well as those in which your target audience is most active.) For instance, Facebook, Twitter, and Google+ are three, universally-applicable social networks for almost any marketing plan. However, Pinterest, LinkedIn, and Digg might be a bit more niche, and perhaps unnecessary.
Also, determine who will be responsible for this social aspect of web presence management. This individual, or team, should be well-versed in the core values of the company, as well as well-immersed in all marketing initiatives of the brand.
3. Optimize Your Search Engine Presence
One of the most valued components in building an authoritative web presence is how visible your company is in online search. SEO and PPC advertising are two very effective forms of web marketing. These channels bring highly-targeted traffic (and pre-qualified leads) to your business' website.

Take a moment to assess how search engine marketing will influence your company's overall web presence. Small businesses are typically suited for local SEO and PPC campaigns, whereas ecommerce stores face a more challenging endeavor with product-focused SEO and ongoing PPC campaign management.
Based on this assessment, you and your marketing team can determine the best course of action in pursuing these channels. Local small businesses can often manage a bulk of the work in-house with the right education and consulting. However, larger companies (in more competitive search marketing contexts) may need an enterprise-level SEO company to handle these services.
Web presence management should be a primary focus of your business' marketing plan. Ensure that these elements are well-defined and properly integrated to maximize the potential of your company's web presence.