Evolve Your SEO Strategy with Content Marketing & Social Media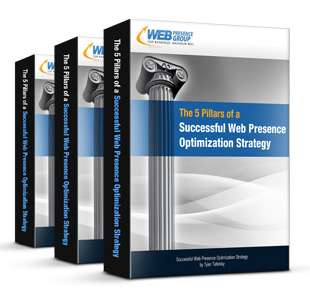 Old school SEO techniques are obsolete. With the influence of social media coupled with the power of great content, brands can build a successful online presence. We call this:
Web Presence Optimization
Get your free copy of our new eBook, and learn the 5 pillars of a successful web presence optimization strategy.
In this free eBook, you will learn how to:
Create a Content Marketing Strategy

Diversify Your Content Portfolio

Reach Out and Establish Valuable Connections

Engage Your Audience & Grow Your Social Following

Produce Reader-Centric Content That Wins
We will take you through the entire process of web presence optimization, step-by-step. Once you are finished with this eBook, you should have a solid understanding of how to perform
web presence optimization
techniques for your online brand.
Start capturing quality, in-market leads and get your free copy of "The 5 Pillars of a Successful Web Presence Optimization Strategy"