Website conversion optimization services takes organic SEO and PPC advertising one step further. At Web Presence Group, our website optimization company provides highly valued conversion optimization services that seek improve the conversion potential of your company's website after users land on your webpages.
Web Conversion Optimization Services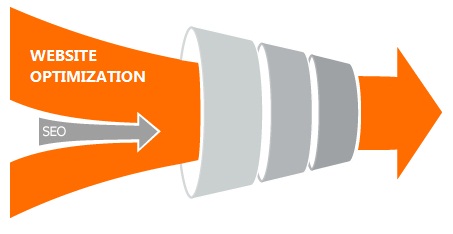 Our website conversion optimization services center on the importance of having a "conversion funnel" or a lead acquisition strategy that addresses on the internal navigation of your website. The strategic processes behind web conversion optimization are geared toward the behaviors of visitors with respect to your website and nature of your products or services.
Website conversion optimization services may target a number of different aspects of your website. Some of the areas that often require the most attention are:
Clear call-to-actions via buttons, links, and forms
Concise, custom developed landing pages for PPC optimization
Improved website copy and overall content structure
Better use of imagery and graphic elements
Easy to find contact information
Enhanced, intuitive website navigation
At the Web Presence Group, we take the time to assess the areas of your website that could benefit from our website conversion optimization services. Whatever the weaknesses of your company's website, we will turn them into optimization opportunities.
Website Conversion Optimization for Organic SEO
Website conversion optimization for organic SEO demands a certain approach to attain a desirable outcome. One of the most effective conversion optimization techniques is using Pay Per Click advertising to test the overall conversion potential of competitive keywords before fully optimizing your website. Once we pinpoint the top keywords that are providing the greatest number of conversions and overall profit margins, we can then keyword optimize your website for those specific terms.
Web Conversion Optimization Services for PPC Advertising
One of the most effective applications for web conversion optimization is via Pay Per Click (PPC) advertising. Our website optimization company provides services that include on-page optimization, or work done on the actual website itself, as well as off-page optimization, or fine-tuning of the advertising platform (such as Google AdWords). Almost every website is unique in its own way, so our conversion optimization service is individually created per your unique needs. We also specialize in PPC optimization services specifically for Pay Per Click advertising campaigns.
Why WPG for Website Optimization Services
These are just a few aspects of our conversion optimization service that we take into consideration when optimizing your website. To learn more about our website conversion optimization services, contact the professionals at our website optimization company today.
If your seeking the top companies for website optimization services we at Web Presence Group offer complete and custom tailored solutions in many aspects of Internet marketing. Spanning from organic SEO, Pay Per Click advertising, and mobile marketing, our website optimization company provides a number of website optimization services and strategic digital marketing solutions.