Local SEO Tips for Google's New Local Search Results
The search engine results pages (SERP's) for local keywords continue to evolve. Just take a look at the screen shot below of Google's new Local Search results.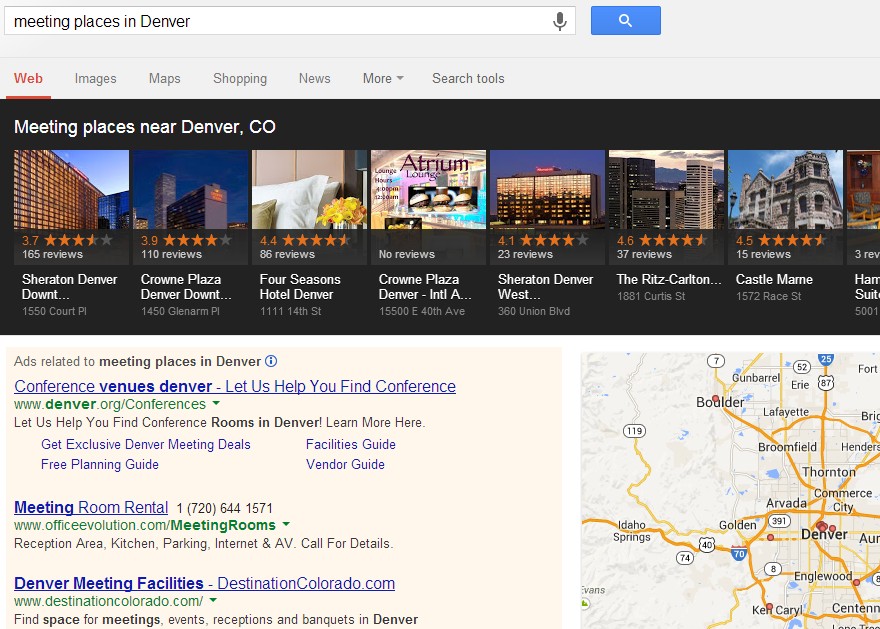 For those of us who are avid Google users, the new look of these local search results is pretty fresh stuff.
For SEO, it's begging the question how does a business get a good placement in the horizontal listings at the top of the page?
In this post, I am going to share with you a few indicators that factor-in to these local search results. Additionally, I am going to share a few local SEO tips to help your business get better search exposure in Google's new Local Search listings.
The Foundation: Having a Google+ Page
After you click one of the upper-most business listings, revised results are generated just below. These results depend on a number of variables, such as a business's web presence (e.g. website, social media pages, etc.,) its directory listings, and its Google+ page.
The latter of these elements (the Google+ page) is the foundation. Although most businesses already have a Google+ page (which is auto-generated by Google,) many businesses have yet to claim, verify, and populate their Google+ to maximize its fullest potential.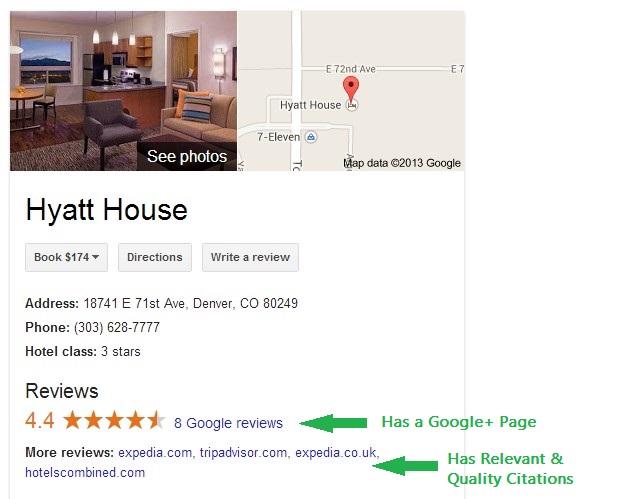 Step one of your local SEO process should be finding your business's Google+ page. Once found, in the lower right hand side of the page select the option to claim the page. Here you'll go through a brief verification process in which Google will send a postcard to your business location to ensure its local legitimacy.
While you wait for the postcard, take a moment to populate your company's Google+ page with goods: contact info, about us text, links back to your website, and other things that customers might find valuable. Once your foundation is set, you can delve into the next phase: pinpointing and building citations.
The Driver: Having an Abundance of Citations
Notice near the bottom of the image above, Google shows "More reviews" of the highlighted business. These reviews are found on other sites (commonly directories) that contain a complete listing of the business, including specific information. The name, address, and phone number (or "NAP" as many local search marketers call it) are the components that make up a "citation."
Google, when determining its Local Search rankings, takes into account the volume, quality/relevancy, and accuracy of a business's citations.
Let's break that down:
Volume – In essence, the more citations the better. Although this is pretty self-explanatory, it's the next two elements that are most important.
Quality/Relevancy – Where citations are found is incredibly important. For restaurants, relevant and quality sources include urbanspoon.com, allmenus.com, and foursquare.com – websites that are relevant to eateries.
Accuracy – Perhaps the most important variable is the accuracy of each citations. That is,

a business's NAP needs to be exactly the same on all websites

. Any inconsistencies in a NAP will hinder the potential to rank highly in Google Local Search.
As you seek out websites to build citations, be mindful of these considerations for you local SEO programs.
To help get you started, I have compiled a list of some of the best, most trusted and authoritative sources of citations for Google Local SEO:
Some of these sources may or may not apply to your business. Another sound technique is do a Google search of some of your competitors. Scroll down the SERP's to see which websites and directories that they're listed on, and pinpoint those that you're missing.
If you still need a hand, feel free to get in touch with us. You can also choose to fill out the form to your right where we'll providing a thorough and unique audit of your company's local web presence.

About the Author
Tyler Tafelsky is the lead SEO analyst here at the Web Presence Group. He is highly engaged in many different facets of Internet marketing, particularly local search marketing, ecommerce SEO, social media, and content development. You can connect with Tyler on Google+ or follow him on Twitter.