The Best Resource for PPC Optimization is in the 'Search Terms'
If you manage a PPC campaign in Google AdWords, then you'll definitely want to conduct some optimization from time to time.
"Optimization" is just a fancy way of saying "tuning-up" or "improving performance." For most PPC campaign managers (especially those who maintain large AdWords accounts,) optimization can be an ongoing endeavor.
To be adept in PPC optimization, you need to be aware of a few key tools in Google AdWords. One of those tools is the Dimensions tab.

The best way to leverage Dimensions is to open this tab while in a specific ad group you wish to optimize. Next, you can use the "View:" drop-down to view the ad group's performance based on a number of metrics.
My favorite (and arguably the best resource for PPC optimization) is "Search Terms."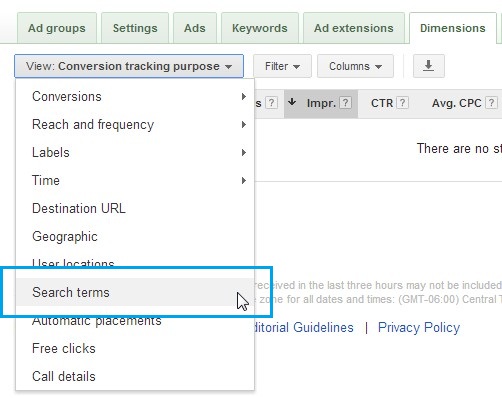 Search Terms opens a world of insight as to what keywords queries are causing your ads to trigger. If you're using broad or modified-broad match keyword bidding, the result may surprise you.
Search Terms Enlightenment (An Example)
I recently was assigned a PPC optimization project for client who sells parts for agricultural and landscaping equipment. Upon opening up an ad group targeting keywords around "Land Pride Mower Parts," I immediately noticed they were using nothing but broad keyword match bidding.
Instantly, I was compelled to view the Search Terms that have been triggering the ad. Just as I suspected, the client's ad was being triggered for multiple unwanted keyword queries. This was resulting in wasted impressions, clicks, and ad spend.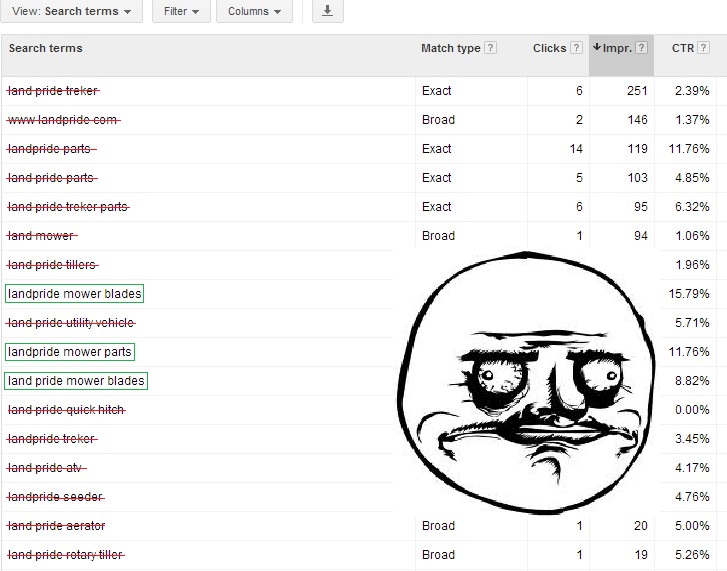 Based on this information, I can do a number of things to better optimize this ad group. One of my favorite techniques is called "Peel and Stick," which was coined by Perry Marshall. This is the practice of taking keyword(s) out of one ad group (the peel,) and placing them in a new ad group, or more suitable existing ad group (the stick.)
For instance, I would most likely create a dedicated ad group for "Land Pride Mower Blades." This would enable me to write more targeted ad copy as well as use a better landing page specific to mower "blades" (not just "parts.")
The projected outcome would be higher keyword quality scores, lower cost-per-click (CPC), and higher click-through rates (CTR).
You can also use Search Terms for negative keyword research. Let's say we found a reoccurring keyword query for "land pride mower part number list." We could add "number list" as negative keyword to ensure this long-tail keyword variation does not trigger our ads.
Search Terms is just one of the many different tools that you leverage for AdWords PPC optimization. Do you have any tools that you like to use? Please share your ideas in the comments section below!
I also encourage you to join this Google+ community dedicated AdWords PPC optimization. Here we discuss various tips, strategies, and news to empower your capabilities as an AdWords advertiser.
About the Author

Tyler Tafelsky offers over five years of experience in search marketing. He has a high degree of expertise in PPC campaign management, as well as organic search marketing and social media engagement. He is happy to share PPC optimization tips, in addition to strategies for organic SEO and content marketing.