6 Budget-Sucking PPC Campaign Management Mistakes (and How to Avoid Them)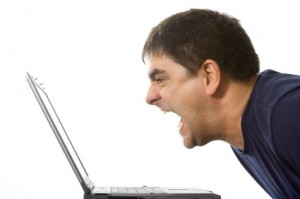 Managing an AdWords PPC campaign can be a cumbersome undertaking. It's not uncommon for inexperienced marketers to quickly fail at PPC campaign management. This is primarily due to a lack of knowledge and understanding of the foundational techniques and best practices.
Well now it's time to learn from the mistakes of elementary search marketers. Below I summarize six of the most common, budget-sucking mistakes that newbie PPC advertisers make. By learning from these PPC mistakes, you will know just how to avoid them for your own paid search practice.
1. Combining Search & Display Network
This mistake might seem pretty obvious for some PPC campaign managers, but it still deserves mentioning. When setting-up a new PPC campaign, never use search and display networks together. Regardless of what Google says about this being the "Best opportunity to reach the most customers," combining these two networks is very inefficient and will most likely chew away your ad spend at an alarming rate.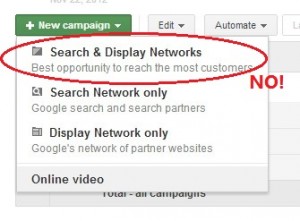 The advertising environment of search and display advertising is vastly different, in addition to the mind-set of consumers. As a result, always target these networks independently with separate campaigns. This tips is simple best practices that's preached in all of the best Google Ads training courses and learning platforms.
2. Only Using Broad Match Keyword Bidding
That fact of the matter is, Google's definition of a broad match is just way too broad. The result of solely using broad match bidding can trigger ads to appear for very broadly related keyword variations and long-tail queries. This can quickly suck a PPC budget dry.
To give you an example, bidding broad for a keyword like "kids military uniforms" could trigger your ad for a search like "girls army camouflage clothing". This results in a number of inefficiencies that can easily be avoided.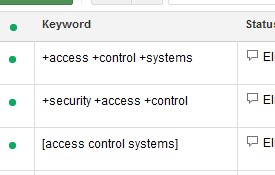 Instead, I suggest using a combination of exact match (surrounding your keywords with brackets) and modified broad match bidding. To use modified broad match, put a "+" symbol in front of the keywords that must be included in a user's search query in order for your ad to appear. This will help to ensure that your ads still see impressions on related long-tail searches while minimizing the risks of using broad match bidding.
3. Cramming Way Too Many Keywords in One Ad Group
One of the most common PPC campaign management mistakes is having far too many keywords in one ad group. This makes it difficult to create a highly targeted ad (because you're trying to cover way too many keywords.) Additionally, the quality scores of your keywords may not be as high as they could be with more focal ad groups.
The best practices of managing a PPC campaign center on the creation of highly-focused ad groups that contain only relevant keyword groupings. Strive to include a maximum of 4-5 closely related keywords per ad group. Not only does this enable you to write targeted ad copy, but you can also develop better landing pages. This practice will also help boost your keyword quality scores, which can translate to a lower cost per click.
4. Failing to Split-Test Ad Copy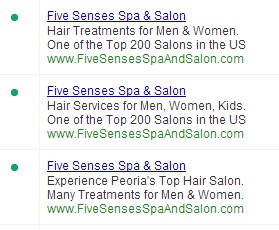 A great way to improve the click-through rate (CTR) of your ads is to continuously split-test the verbiage of the ad copy. It's quite simple. You simply run 3-4 ads at the same time and track the CTR% and any ongoing modifications you make (be sure choose the option to "Rotate to show ads evenly" in the Settings tab of AdWords.)
Tracking is very important to ensure that your refining your split-tests in a progress manner. Equally important is only making small adjustments at a time. Avoid making too many modifications to the point when you lose track of what's working and what's not.
Successful PPC ads will typically include three key elements:
Value: why choosing your brand is beneficial
Offer: what's the product or services being offered
Proposition: what behavior or action can be taken
The offer is the most obvious element of the ad copy and is typically included naturally without much thought. Expressing value in your ad is a big difference maker that can help you stand-out from the clutter. Leverage your USP or other compelling qualities that make your offer unique.
The proposition is simply a call-to-action, or some sort of verb. Get creative with you proposition and test more appealing action words like "Learn," "Discover," or "Experience."
5. Neglecting Negative Keywords
Google AdWords and other PPC advertising platforms allow you to implement keywords for which you do not want your ads to be shown. If you're using broad or modified broad match bidding, you may see a lot of impressions and clicks from users who've searched undesirable keyword variations like "free" or "reviews."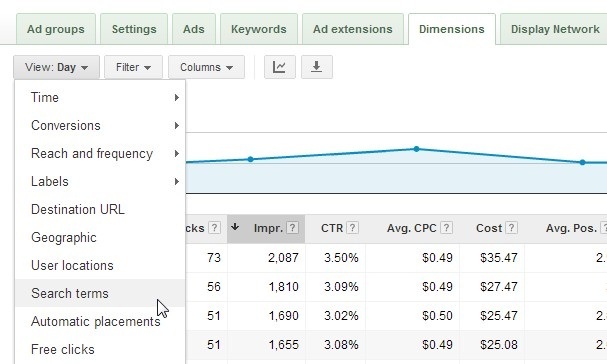 To see what keywords are causing your ads to trigger, click the "Dimensions" tab, and under the "View" option, select "Search Terms."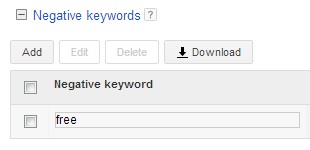 Under Search Terms you can learn a lot about the precise search queries that result in impressions and clicks. This data can reveal a wealth of insights for negative keyword research.
Once you've pinpointed the keyword variations that you do not want triggering your ads, you can add these terms in the negative keyword list. In AdWords, this found under the "Keywords" tab toward the bottom of the page.
6. Using Inadequate Landing Pages
Getting traffic is good and all, but if your landing pages are not converting visitors, you're wasting your money. A common mistake is directing all of your paid search traffic to the homepage. Rarely is this the most effective landing page.
Google users have high expectations when they click a PPC ad. If your ad is about Keyword X, then your landing page should also correspond with Keyword X. If the homepage or any inside pages are not adequate, then you should not be bidding on Keyword X. Simply put: it's waste of your ad spend.
Take the time to create dedicated landing pages specifically for PPC advertising. A good landing page will be stripped of the website's core navigation, which limits the options that a visitor can take. This promotes attention to the call-to-action, which is also a must-have component to any good landing page. Also, like your ad copy, split-test different versions of landing pages to optimize for conversions (aka "conversion rate optimization" or "CRO.")
About the Author:
Tyler Tafelsky is highly engaged in providing PPC campaign management services here at the Web Presence Group. He offers several years of experience developing new PPC campaigns, as well as optimizing existing campaigns for better performance. You can connect with Tyler on Google Plus, at YisooTraining.com or follow him on Twitter.