3 Crafty Tools Employed by Ecommerce SEO Experts
Over my five-year career in the SEO profession, I have used a number of different tools to make my job more efficient. Although some tools are better and more expensive than others, I found a few that invaluable to my job as a SEO expert.
Now engaged in ecommerce SEO, the use of these tools is even more helpful. Ecommerce SEO projects are often highly complex and cumbersome endeavors. In short, there's just a lot more going, making it essential to organized and automate whenever possible.
In this article, I will share with you three crafty tools that my fellow colleagues and I always keep in our SEO arsenals.
1. SEM Rush

SEMRush.com is a fantastic tool for almost any facet of SEO, particularly ecommerce. It's handy web-based tool that has both free and paid versions. Although the main purpose for using SEM Rush is to conduct competitor and SERP (search engine results page) analyses, it's also great for keyword research.
Once you submit a domain at SEMRush.com, you can analyze traffic data and metrics about the website's keyword rankings, or organic search exposure. So in addition to understanding where you competitors are ranking, you can also gauge how profitable (and achievable) certain keywords are.
In fact, SEM Rush provides insightful keyword data about keyword phrases, including average monthly search volume, trends, and competition rating. And beyond ecommerce SEO, PPC advertisers can discover which keywords a competitor is bidding for in the paid search results. This information get really help you learn about what strategies your competitors are employing, and how to capture some of the search market they're in.
2. SEO PowerSuite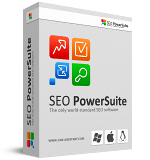 The SEO PowerSuite is an advanced set of SEO tools that requires payment to use. It's composed of four powerful software programs that emphasize specific approaches to SEO analysis. These programs can help streamline many processes and functions of an SEO campaign.
SEO PowerSuite is ideal for ecommerce SEO because it makes the complexities of both on-page and off-page optimization much easier to address. It also can help make your reporting and analysis tasks more streamlined. Below is a brief summary of each program in the SEO PowerSuite package.
SEO SpyGlass: This program will scan and report all of the backlinks directing to a website, along with valuable metrics about each backlink (particularly the URL source, Google PageRank, and anchor text.) In addition to auditing your website's own backlink portfolio, SEO SpyGlass is a great tool to conduct link analyses on your competitors.
Rank Tracker: Keyword rank reporting can be a cumbersome task for most ecommerce SEO companies. Rank Tracker helps make client reporting easier by automatically pinpointing the keyword rankings of any given website. The tool can organize the keywords in a clean report to deliver to clients, or to use for your own analysis.
Link Assistant: The Link Assistant tool makes it efficient to find quality partners for link building. Although any form of manual link building is considered "gray hat SEO," the Link Assistant tool can help to ensure your link resources are top quality and highly relevant to your clients' (or your own) websites.
Website Auditor: This program will analyze the content and overall on-page SEO quality of your ecommerce website. It shows how effective keywords are being used in various elements (e.g. page titles, Meta descriptions, etc.,) as well as help troubleshoot issues surrounding HTML code errors, warnings, and problems with duplicate content.
3. SEOmoz Open Site Explorer

Open Site Explorer is web-based SEO tool developed by the highly acclaimed team at SEOmoz. Open Site Explorer is simple and free to use (with some limitations under the free version.) The software can provide data about the links surrounding your site, as well as that of your competitors.
With Open Site Explorer, you can view a wealth of metrics focusing on the authority of a domain, webpage, and links, in addition to more emerging SEO variables like the amount of social indicators (Facebook Likes, Google +1's, Tweets, Shares, etc.) that a page has.
The easily-absorbable (and report-able) interface is grouped into the following tabs:
Linking Domains: delivers data about the sources that are linking to your website. Users can see an list of domains that are producing backlinks, as well as information and metrics about each link source.
Top Pages: shows the most authoritative pages of your ecommerce site from an SEO standpoint. You can assess specific metrics of each page, such as inbound links, HTTP status, and social indicators.
Compare Link Metrics: compare link data (off-page SEO) of your website with up to five other (competitor) domains.
Anchor Text: shows the link anchor text that is being used for the inbound links pointing to your website. This information is useful to ensure your site's backlink portfolio is a natural and not "over-optimized" with too much exact phrase match anchor text.
Advanced Reports: enables users to build custom reports based on the link analysis data. This handy feature is only accessible to SEOmoz Pro members.
About the Author
Tyler Tafelsky is a highly acclaimed organic SEO and Internet marketing expert. He currently leads the SEO team at Click Centric SEO, an ecommerce-focused SEO and Internet marketing company. You can email him directly at Tyler(at)clickcentricseo.com or follow him on Twitter.